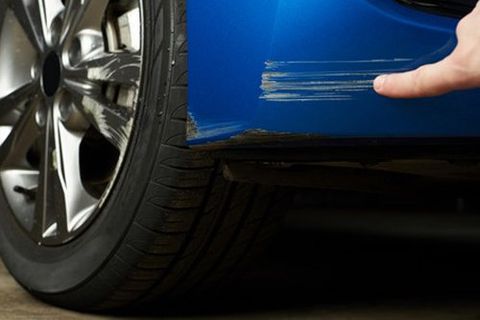 Body damage on a car can range from the small and insignificant to the big and impossible to ignore. But whether it's big or small, the odds are high that your call will need some kind of bodywork done eventually. What kinds of body damage is your car most likely to experience? Keep reading to find out.
Bumper Damage
When you think of bodywork, you probably think of a car accident, even if it's just a minor fender bender. According to the National Highway Traffic Safety Administration (NHTSA), rear-end collisions are responsible for about 29% of all car accidents. So, it's little wonder that bumper damage is one of the most common kinds of body damage cars experience. After all, if one car is rear-ending another, the odds are high that both bumpers are going to need some repairs.
Dents and Dings
Of course, body damage doesn't just occur on the road. Dents and dings are quite common when your car is parked too. Errant shopping carts in the grocery store parking lot can leave a mark. People who park next to you may carelessly open their door too wide and dent your car. You can even sustain body damage in your own driveway from kids' bikes and toys. Many people ignore these minor scrapes and consider them a part of car ownership; dents and dings are always going to happen. However, if you want to keep your car looking its best, you can get these fixed.
Weather Damage
Humans aren't the only force that can inflict damage on your car. Mother Nature can take its own toll on your vehicle, especially if you park your car outdoors. Hailstorms are one common, natural cause of vehicle damage. Hailstones frequently dent car roofs and hoods, and if the ice chunks get large enough, they can even shatter windshields. These storms can get quite severe and end up causing significant damage to both houses and vehicles.
Windshield Damage
Being at the front of your vehicle, your windshield can take a few nasty hits when you're out driving. Most drivers have had the unpleasant experience of having a rock or other piece of debris strike their windshield, leaving a chip or ugly crack. Even small chips can quickly spider web out of control and become large cracks if they're not fixed. This can lead to you needing to replace your entire windshield instead.
While you can ignore dents, dings, and scratches, other kinds of body damage to your car shouldn't go unfixed. Often, they can get worse and cause additional damage and more expensive repairs down the road. So if your car is damaged, be sure to take it to an Audi body shop in Houston as soon as possible.